GAACC April Women's Club Meeting
Thursday, April 13, 2023 (11:30 AM - 1:00 PM) (CDT)
Description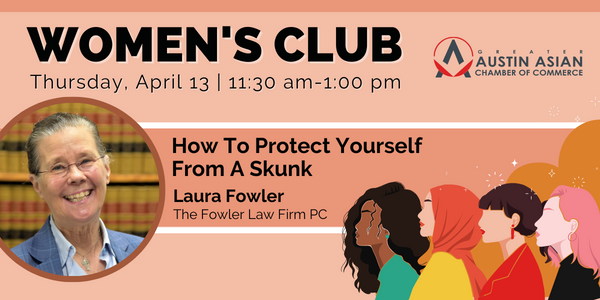 How to Protect Yourself from a Skunk
This presentation by Laura Flower, of The Fowler Law Firm, is the result of representing many business owners and realtors who work with investors and those who have spouses or 'significant others' residing in Texas. Once the relationship has soured, one wants to sell the house they both live in and the other gets a smart lawyer to tell them about all their possible claims in Texas. Ownership of assets, real personal assets and intangible assets too. This is a gender-neutral issue but more often women have expressed a keen interest to hear a lot more about this topic.

Texas has a unique version of common law marriage, one which is not presumed just by living together for a long time, but rather can spontaneously arise from the simple fact of publishing to third parties that one is married. This happens more frequently than many realize, when people take their significant other to family events and introduce them as their husband or wife. Beware of Thanksgiving and Christmas!

And remember, skunks are evolving right along with the rest of us!

About the Presenter
Laura Fowler is the managing shareholder of The Fowler Law Firm PC, whose nationally ranked, award winning attorneys are professionally accomplished, exceptionally kind and warmly welcoming to a remarkably diverse group of clients including business entities, charitable organizations and governmental units owned and managed by the most wonderful individuals in a magical city called Austin. We are not your conventional law firm(tm).
Website Link: www.thefowlerlawfirm.com
Facebook Link: https://www.facebook.com/TheFowlerLawFirmPC/
Restaurant Spotlight
JOI Asian Bistro. Located at Domain NORTHSIDE. The concept of JOI was born from the idea of bringing popular Southeastern Asian street cuisine for all generations to enjoy and share.

About GAACC Woman's Club
The Women's Club is a dynamic group of leaders who grow and learn from each other. The Club meets on the second Thursday every other month for an hour and a half to eat amazing food from one of our community restaurant members, enjoy a presentation that is inspiring, educational, and fun on a rotational topic of choice, and network with each other to strengthen our relationships. It is led by our GAACC Captain, Emlyn Roesler.
Event Sponsor
THANK YOU to The Fowler Law Firm for sponsoring this event and the Greater Austin Asian Chamber of Commerce Women's Club program. Visit The Fowler Law Firm website for more information.
Images
Joi Asian Bistro
3120 Palm Way #150



Austin

,

TX

78758

United States



Event Contact
Mark Hanson
Thursday, April 13, 2023 (11:30 AM - 1:00 PM) (CDT)