Project Rebuild Small Business Forum
Thursday, May 25, 2023 (5:00 PM - 7:30 PM) (CDT)
Description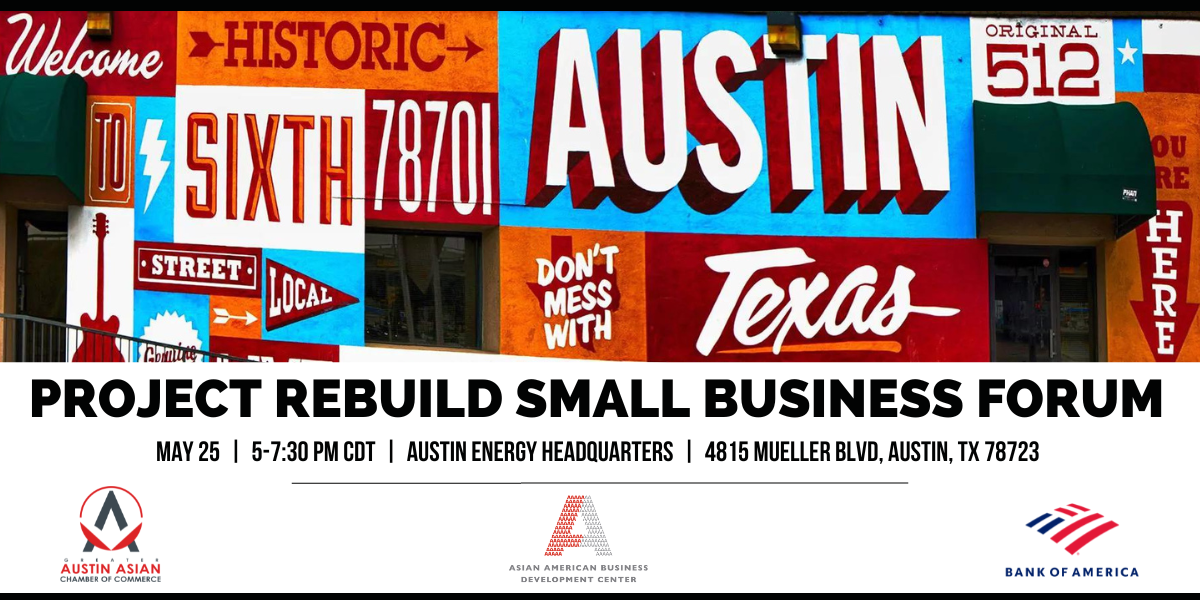 The Greater Austin Asian Chamber of Commerce (GAACC) is proud to announce our partnership with the Asian American Business Development Center (AABDC) on the Project Rebuild Small Business Grant & Assistance Program.

With the support of Bank of America, all Austin-area AAPI-owned small businesses are invited to this event. You will receive:
An opportunity to win a $2000 grant (application starts during the event).
Free technical assistance from our valued partners, including financial management, legal assistance, digital and social media marketing, and access to capital.
Networking with other small business owners and Austin's AAPI business community.
---
About the Project Rebuild Small Business Grant
Through support from Bank of America, 15 AAPI-owned small businesses will be selected to receive $2,000 in core operating capital support and ongoing technical assistance. Access to the online grant application form will be provided during the event on May 25 and the grant application window will be open between May 25 and June 9, 2023. It only takes 5-10 minutes to apply. Read below for information on grant criteria.
---
Event Agenda
5:00-5:30 pm: Registration & Refreshments
5:30-5:45 pm: GAACC Welcome & Introductions
5:45-5:50 pm: Emcee Remarks
5:50-6:35 pm: Technical Assistance Presentations
6:35-6:40 pm: Grant Application Process & Information
6:40-6:45 pm: Closing Remarks
6:45-7:30 pm: Networking & Grant Application Begin
---
Getting There & What To Wear
Garage parking at Austin Energy is limited, but may be available depending on the time of your arrival. Use the Austin Energy parking garage entrance on Garcia Street and, upon entry, find spaces marked "Visitor Parking" on the left (click HERE for map).
Street parking is available in the area near the building. Fees may apply.
A public parking garage is located three blocks away (enter on Robert Browning Street or McBee Street - click HERE for map - fees apply).
The dress code for this event is business casual.
There will be plenty of opportunity for networking. Bring your business cards!
Technical Assistance Partners
Our Technical Assistance Partners will be on hand to provide expert guidance on topics including financial management, legal assistance, marketing support, business best practices, city and state resources, and access to capital.



City of Austin Economic Development Department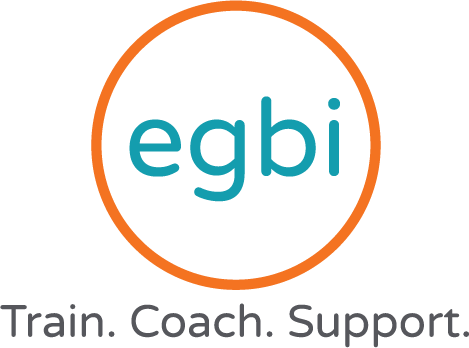 Economic Growth Business Incubator

Texas State University Small Business Development Center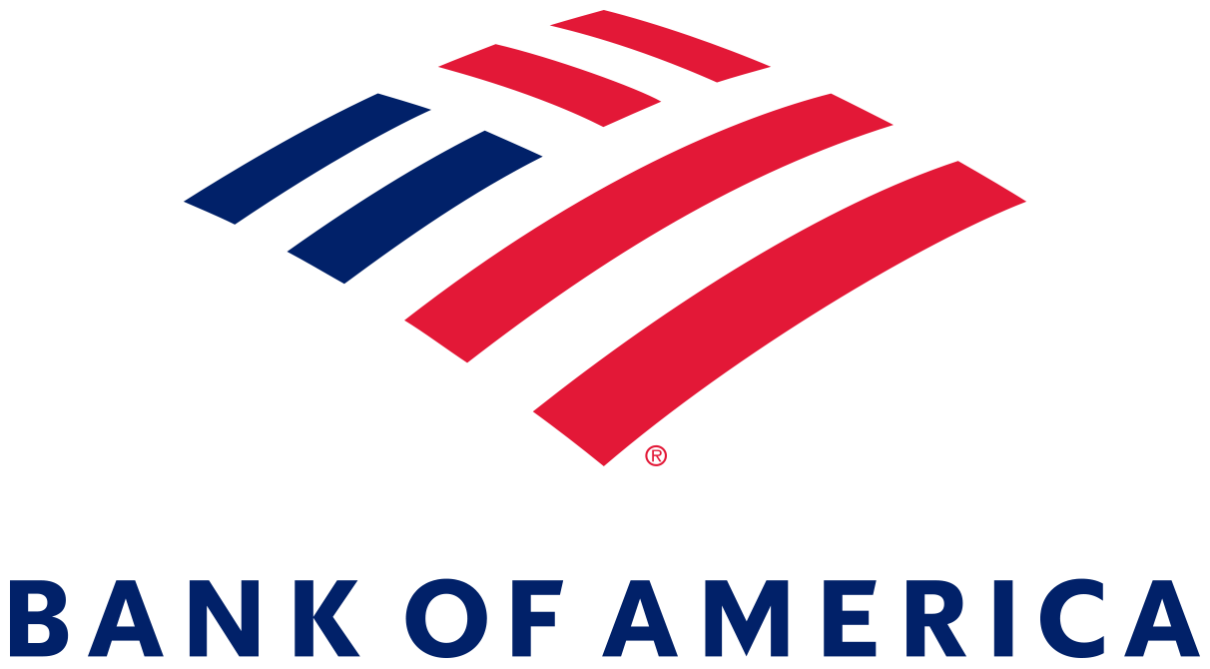 Venue Sponsor
Thank you to Austin Energy for providing their beautiful venue for this event.
Austin Energy is more than just an electric utility. As a community-owned utility, Austin Energy is a not-for-profit enterprise of the City of Austin working to meet and exceed the needs of those they serve.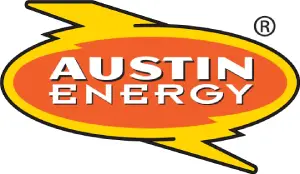 Austin Energy
Grant Criteria
Those applying for the grant should meet the following requirements:
Must be an AAPI-owned Business
Have not received a grant from AABDC before.
Must have a physical address (no PO Box).
Must be in business for more than two years, or at least since May 25th, 2021.
Total annual revenue must not exceed more than $1 million
What qualifies as an AAPI-owned Business?
While we use the term "AAPI-owned" to denote qualified businesses, Asian/Pacific American (APA) or Asian/Pacific Islander (API) or Asian American and Pacific Islanders (AAPI) or Asian American and Native Hawaiians/Pacific Islander (AANHPI) are equivalent terms commonly used in the United States to denote Americans who trace their origin or ancestry to any of the 40+ countries found on the Asian continent or any of the 15+ countries located in the Pacific Ocean (including the U.S. state of Hawaii).
An AAPI-owned business must be 51% owned and controlled by someone who is Asian-American or Pacific Islander American.
A business can still be considered AAPI-owned if there are non-AAPI or even non-minority co-owners, as long as they don't own more than 49%.
Since the number of grants available is limited to 15, further consideration will be given to business owners who share why support from this grant will have a meaningful impact on the business. Applicants may include responses to the following:
How you will leverage the technical assistance and capital support for the greatest impact?
Which challenges or barriers to economic mobility have you faced?
Finally, for revenue verification, grant applicants will be asked to submit their business Income Tax Return (ITR). It is a good idea (though not required) to have those documents ready in digital form to submit during this event. You may also submit your application during the application window (May 25-June 9, 2023).
Documents submitted should be for 2022 and can include:
For Sole Proprietorships - Schedule C
For Partnerships - Form 1065, Schedule K-1
For Corporations - Form 1120
For Limited Liability Companies (LLCs) - If taxed as "Corporation" - Form 1120; if taxed as "Single-member" - Schedule C; if taxed as "Multi-member" - Form 1065
---
Thank you for your support of the Greater Austin Asian Chamber of Commerce and the Central Texas AAPI business community. We look forward to seeing you May 25!
Austin Energy Headquarters
4815 Mueller Boulevard



Austin

,

TX

78723

United States



Thursday, May 25, 2023 (5:00 PM - 7:30 PM) (CDT)
Categories
Public Calendar
Connecting Program
Education Program
Member Calendar